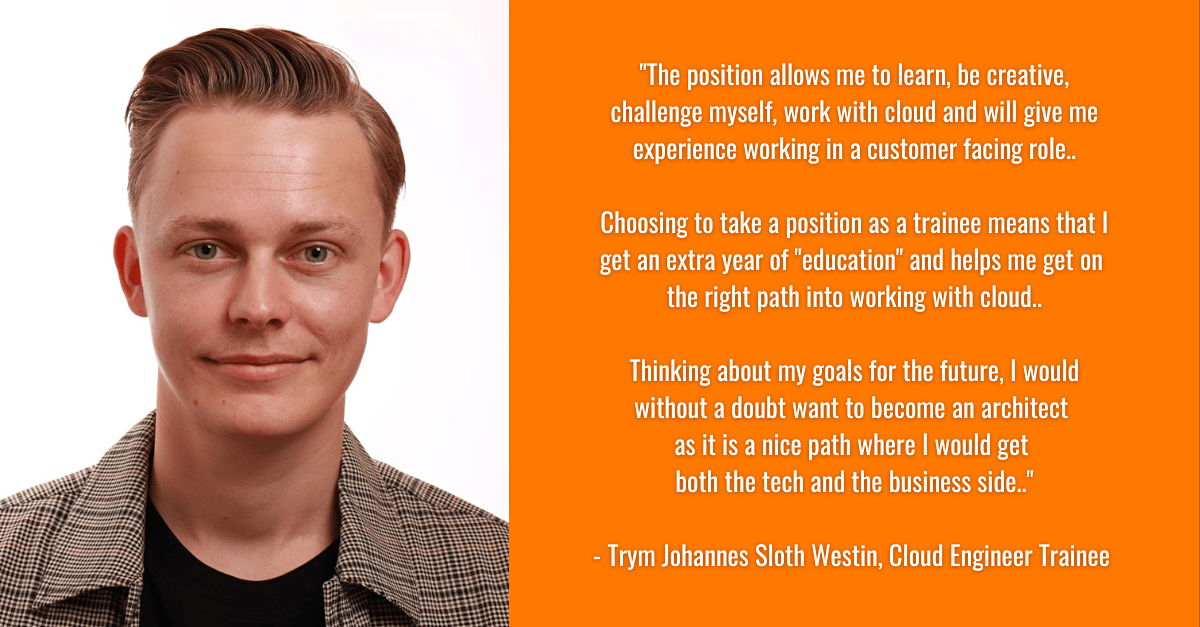 Get to know Trym Johannes Sloth Westin, our Cloud Engineer Trainee
Why did you join the Professional Services department?
For me it was the perfect way into cloud and IT as I do not have the typical background. I enjoy that I get to be creative while learning more within tech.
Why were you interested in the position as Cloud Engineer Trainee in Professional Services?
The position allows me to learn, be creative, challenge myself, work with cloud and will give me experience working in a customer facing role. As part of my Trainee program, I have spent time visiting Operation Center and discovered that Professional Services is more in line with where my interest lies. Choosing to take a position as a trainee means that I get an extra year of "education" and helps me get on the right path into working with cloud.
What do you enjoy the most about what you do?
What I have enjoyed the most so far has been to collaborate with others to find solutions. When someone asks me to help with an issue and we have a good discussion around it is when I enjoy myself the most.
Why did you decide to focus on AWS?
I decided to focus on AWS as that was where I started, and I have really enjoyed working with AWS and find it easier to understand. Thinking about my goals for the future, I would without a doubt want to become an architect as it is a nice path where I would get both the tech and business side.
What type of colleague will a person get in you?
What you would get from me as a colleague is someone who is honest and eager to help in any way I can and who enjoys learning new things and support my colleagues if they are facing challenges.
Can you give us a fun fact about yourself to end with?
A fun fact is that I play 6 different instruments, mostly violin but also guitar, piano, drums, bass, and vocals.
Interested in finding out more about our opportunities within cloud?
Are you also interested in exploring how you could take the next step in your cloud career?